stay unique
Welcome to your home away from home. Our rooms and studios are designed to give you everything you really need: comfortable beds & restful sleep, practical features and no unnecessary knickknacks.
Make yourself at home!
Design your stay the way you want it. Our rooms and studios can be almost anything you want them to be. Whether it's a space for creativity with high-speed Wi-Fi and a quiet atmosphere, a living room to relax in with a smart TV and Bluetooth radio, or a bedroom with a premium bed and a huge blanket for legs tired from dancing. Make your room your home in another city.
Depending on your preferences, there are various air-conditioned rooms from 19 m² and studios including a kitchenette from 30 m² (also suitable for families and long-stays). With our plus-booking, you can expect additional highlights such as a direct view of the Kiel Fjord or a rooftop-view of Bremen.
We look forward to seeing you. Stay unique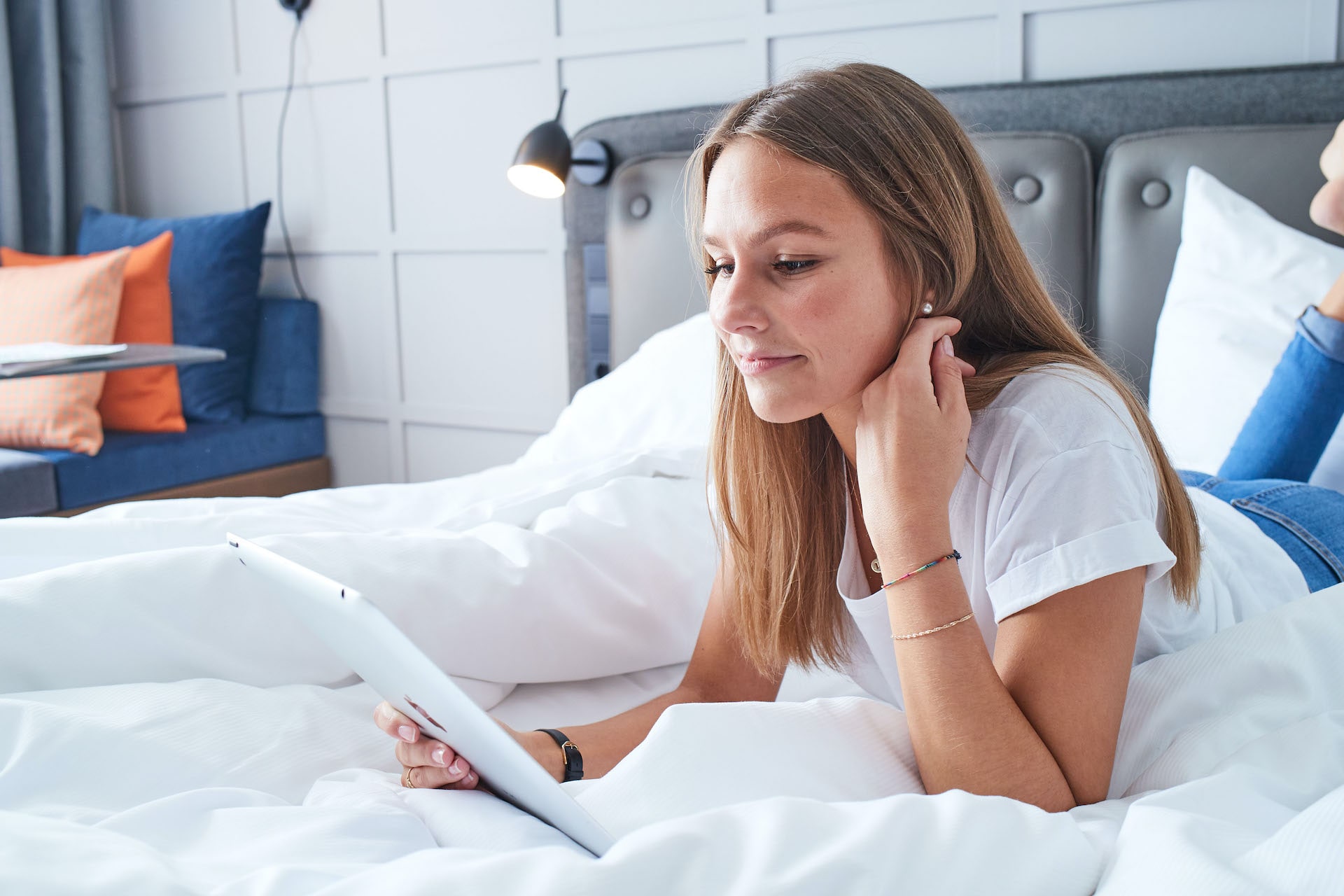 Your room has something up its sleeve!
We want you to be able to concentrate fully on what you're here for. Whether it's a relaxing holiday, a business meeting or a long stay. That's why we've included a few features in the rooms to make your stay as uncomplicated as possible
You can easily check in and check out via app, even while on the road, and can then open your room door with your smartphone. A few highlights await you there, such as the large 49" Smart TV with all your streaming services or the retro-look bluetooth radio by Roberts. You can work comfortably at our designer desks, and our premium beds by Sleep&Dream Kiel will keep you cosy - the 2.20-metre king-size duvets are included.
FAQs to our Rooms
We have prepared a few of the classics among the most frequently asked questions for you in our FAQs. Can't find the right answer? Then simply contact us directly!
Covid-19: What is there to keep in mind?
Many measures to contain the pandemic are already familiar to us from the past months and this is also the case at unique by ATLANTIC Hotels: In the public areas, we wear masks coverming mouth and nose and there are facilities for disinfection. Markings help to keep a safe distance and the rooms are cleaned attentively. Check-in, check-out and also the payment of the room can be contactless.
In addition, of course, up-to-date information always applies:
A good overview is also provided e.g. by the Tourism Guide (German Centre of Competence for Tourism) (only available in German)
Can I cancel a booking flexibly?
In case your plans change on short notice, you can cancel your room free of charge until 6:00 PM on the day of arrival.
All changes to your booking can be made in our booking system. For your personal access, it's best to check your mailbox. We have sent you a confirmation email after your booking.
Yes, please inform us that you are bringing your dog when booking. We charge 10 € per dog per night.